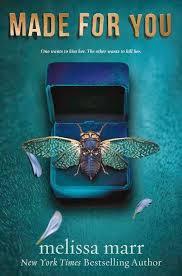 Title: Made for You
Author: Melissa Marr
Publication date: September 16, 2014
Publisher: Harper Collins
Goodreads | Buy from The Book Depository
From Goodreads:
When Eva Tilling wakes up in the hospital, she's confused—who in her sleepy little North Carolina town could have hit her with their car? And why? But before she can consider the question, she finds that she's awoken with a strange new skill: the ability to foresee people's deaths when they touch her. While she is recovering from the hit-and-run, Nate, an old flame, reappears, and the two must traverse their rocky past as they figure out how to use Eva's power to keep her friends—and themselves—alive. But while Eva and Nate grow closer, the killer grows increasingly frantic in his attempt to get to Eva.

For the first time, New York Times bestselling author Melissa Marr has applied her extraordinary talent to contemporary realism. Chilling twists, unrequited obsession, and high-stakes romance drive this Gothic, racy thriller—a story of small-town oppression and salvation. Melissa's fans, and every YA reader, will find its wild ride enthralling.
Made for You is well-known author Melissa Marr's debut into contemporary fiction (albeit with a touch of paranormal), and I must say that it's a stunning one! Emotional gripping and fast-paced, Made for You might be my favorite out of Marr's novels.

We meet Eva Elizabeth Tilling-Cooper, heiress to giant winery and granddaughter of a minister. Out of nowhere, the sweet Southern belle suffers a hit-and-run. She's considered lucky to be alive despite of broken bone, brain injury, and serious scar on her face. Nobody has a clue on the driver in the accident. When more girls fall victim to this 'accidental' hit-and-runs, Eva starts to wonder whether it's actually accident at all. And the hallucination she has whenever she touches other people's bare skin? It might not be hallucination at all. She might actually has ability to foresee people's death. The ability might be the key thing Eva can rely on in order to save herself and people she loves from her obsessive killer…

I might not be Marr's number one fan of her fantasy books, but I'm eager to jump on her future contemporary works! Made for You is certainly an exhilarating read, and I become more and more invested with the story the more I flip the pages. Despite of her lucky upbringing, Eva is not a snotty brat at all. She's considerate and rational most of the time. Grace, Eva's best friend, is very supportive in helping Eva coping with her harsh condition. She's exactly what you need and wish from a friend! Nate and Eva's romance is cute. I'm kinda glad it doesn't take the front seat of the story however since I am more attached in the mystery.

One reason I might like this book more than Marr's other works might be because of the use of first-person POV, rather than her usual third-person POV. I like first-person perspective of Eva, the killer, and sometimes Grace. All of them gives a little glimpse towards the story. The thoughts of the killer is very sickening anyway – can we please tone it down a little? It left me with bad taste in my mouth every time I read the killer's perspective. If Marr does want to create a horrible, terrifying psycho, then I guess it really works!

All in all, Made for You is a terrific ride and one I'd recommend to fans of contemporary mystery. It's interesting to see how wealth and family background can matter so much in a small Southern town. Makes me wishing to read more Southern tale! With strong plots, great characters, and neat writing, Made for You is a recommendation for fans of YA fictions with mystery.

None of it makes sense to me. Micki did nothing to me, and although Amy slept with Robert, that's not reason enough to wish this on her. Neither of those things explain why the killer attacked me. I sit on the sofa trying not to think that someone wants me dead—someone who has now killed two girls I know.
4 cups of tea!
Great mystery and wonderful character. We call it creeptastic, I guess? ;)
THE GIVEAWAY
This is part of the tour hosted by Xpresso Book Tours. Thank you for letting me joining the fun, Giselle and Melissa! :)
You can follow the tour HERE. :)