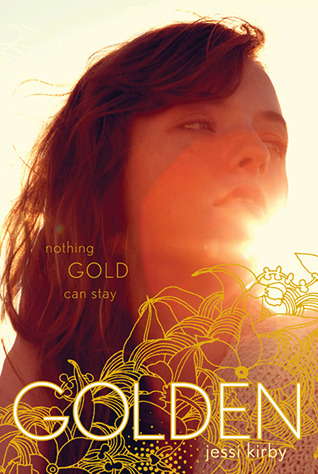 Title: Golden
Author: Jessi Kirby
Publication Date: May 2013
Publisher: Simon & Schuster Books for Young Readers
Goodreads
From Goodreads:
Seventeen-year-old Parker Frost has never taken the road less traveled. Valedictorian and quintessential good girl, she's about to graduate high school without ever having kissed her crush or broken the rules. So when fate drops a clue in her lap—one that might be the key to unraveling a town mystery—she decides to take a chance.

Julianna Farnetti and Shane Cruz are remembered as the golden couple of Summit Lakes High—perfect in every way, meant to be together forever. But Julianna's journal tells a different story—one of doubts about Shane and a forbidden romance with an older, artistic guy. These are the secrets that were swept away with her the night that Shane's jeep plunged into an icy river, leaving behind a grieving town and no bodies to bury.

Reading Julianna's journal gives Parker the courage to start to really live—and it also gives her reasons to question what really happened the night of the accident. Armed with clues from the past, Parker enlists the help of her best friend, Kat, and Trevor, her longtime crush, to track down some leads. The mystery ends up taking Parker places that she never could have imagined. And she soon finds that taking the road less traveled makes all the difference.
What is it you plan to do with your one wild and precious life?
- Mary Oliver

Valedictorian Parker Frost stumbles across a journey of the most famous dead girl in her town, Julianna Farnetti. Parker know she shouldn't read what she is not supposed to, but she can't resist herself and soon she is wrapped in the story of Julianna, Shane, and Orion. The story that is different from what she has always heard of the golden couple Julianna and Shane. When there is possibility that Julianna might be still alive, along with her best friend Kat and her longtime crush Trevor, Parker goes on a road trip to find the supposedly-dead girl and make things right.

I love Frost's poems, and with snippets of his poems in the beginning of each chapter, it is hard not to like this book. And road trip! We all have soft spot for road trip books, don't we?

Golden has all of the important ingredients. Neat plot, likable set of characters, and just the right mix of drama and Frost's poems. Add a spice of mystery, and voila! A wonderful friend to accompany you in the afternoon is ready. The only problem I have with this book is it feels anticlimactic. There are conflicts, yes, but it is resolved in such a peaceful manner that I didn't feel the thrill at all. It has all the buildups, but no crackling fire. I guess the lack of climax is mainly caused of my distance to the main character. Parker is likeable, but sometimes I feel like she keeps readers at the arm's length.

While I have some problems with Golden, it's still a wonderful book that I'm sure many others can relate with. Parker's journey of self-discovery is something that is worth reading since it is something that we have gone through in one phase of our lives. Then maybe, like Parker, we can be brave enough to take the road less traveled.

My journal. Today I'll seal it up and bring it to Mr. Kinney, and tomorrow, after graduation, I'll get on a plane, and cross endless miles of land and sky, to begin the next chapter of my one wild and precious life. I don't know where I'll be ten years from now when my story comes back to me, but I hope that when I read it I can see that the road I chose really did make all the difference.
4 cups of tea!
A great choice for afternoon reading.
Follow my blog with Bloglovin