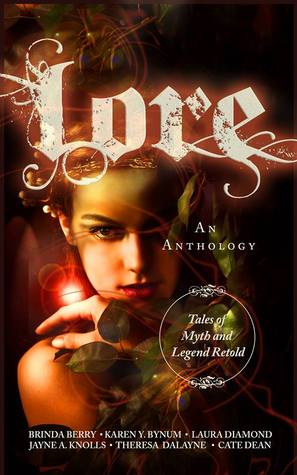 Title: Lore: Tales of Myth and Legend Retold
Authors: Brinda Berry, Karen Y. Bynum, Laura Diamond, Jayne A. Knolls, Theresa DaLayne, Cate Dean
Publication date:
Publisher: Sweet Biscuit Publishing LLC
Goodreads
From Goodreads:
A collection of six folklore retellings that will twist your mind and claim your heart.

SHIMMER: A heartbroken boy rescues a mermaid... but is it too late to save her?

BETWEEN is about a girl, a genie, and a ton of bad decisions.

SUNSET MOON: Eloise doesn't believe in Native American magic--until the dreamcatcher spiders spin her down an unknown path.

THE MAKER: An incapacitated young man bent on revenge builds a creature to do it for him.

A BEAUTIFUL MOURNING: The story of a Maya goddess torn between duty and love, and the ultimate sacrifice she must make to achieve true happiness.

THE BARRICADES: When a human girl risks everything to save the life of an Eternal prince, will their feelings for each other change the world they know, or tear it apart?
I was in the mood for anthology, so Lore, An Anthology: Tales of Myth and Legend Retold was a great read for me. I like some stories more than the others, but overall it was a nice read and I came out knowing much more about myths and legends.
The first story, Shimmer, is a mermaid story with a twist in the end. It has romantic atmosphere, but the pacing is a bit too slow for my taste. I found the second story, Between, very interesting. It's a classic high school elite clique story, but the appearance of djinn (genie) make this story memorable. I think the LGBT stuff can be taken more carefully, but I like the story in general. In my opinion, Sunset Moon has the strongest characterization in this anthology. It's a bad girl meet good guy story, and their relationship is definitely swoon-worthy! I love Native American folklore, so it's not hard for me to fall for this one. :)
The Maker… what can I say? It's a take on golem mythology and the story reminds me a bit of Frankenstein. The guy makes a golem in order to take revenge on his girlfriend. The story lays heavily on description of action and it can bug you at times, but the plots are simply intriguing. I can definitely see the author's potential in the story. A Beautiful Mourning has very beautiful, flowing written style. The story has poetic atmosphere in it which I'm sure many will appreciate. I love the ending in The Barricades. It ends with a hopeful note, and I think it suits well as the last story in this anthology.
All in all, Lore, An Anthology: Tales of Myth and Legend Retold is a fascinating read for me. If I have to play favorite, I think it would be A Beautiful Mourning. I'm a sucker for beautiful writing style and melancholic plots. ;) Sunset Moon is good as well. This anthology is a recommendation for anyone who wishes to visit many myths and legends in one go. From mermaid story to golem myth: just pick your favorite lore! :)
The heat from his skin dulled as his sharp eyes softened. "I will love as the mortals." He leaned in and brushed his lips against mine. My eyes fluttered shut. "Fearlessly and without limitations."

from A Beautiful Mourning
3 cups of tea
Great for in-between reading!
This is part of the tour hosted by Xpresso Book Tours. Thanks for letting me joining the fun, Giselle!