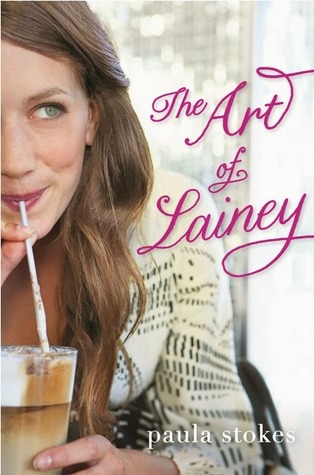 Title: The Art of Lainey
Author: Paula Stokes
Publication date: May 2014
Publisher: HarperTeen
Goodreads | Buy from The Book Depository
From Goodreads:
"A satisfying and sweet story." -Publishers Weekly

Soccer star Lainey Mitchell is gearing up to spend an epic summer with her amazing boyfriend, Jason, when he suddenly breaks up with her—no reasons, no warning, and in public no less! Lainey is more than crushed, but with help from her friend Bianca, she resolves to do whatever it takes to get Jason back.

And that's when the girls stumble across a copy of The Art of War. With just one glance, they're sure they can use the book to lure Jason back into Lainey's arms. So Lainey channels her inner warlord, recruiting spies to gather intel and persuading her coworker Micah to pose as her new boyfriend to make Jason jealous. After a few "dates", it looks like her plan is going to work! But now her relationship with Micah is starting to feel like more than just a game.

What's a girl to do when what she wants is totally different from what she needs? How do you figure out the person you're meant to be with if you're still figuring out the person you're meant to be?
The Art of Lainey opens up in quite a dramatic way: Lainey breaking up with her boyfriend Jason in public, precisely in her own father's coffee shop with everyone else watching. After spending days tearing up about the break-up, Lainey decides that Jason must have made mistake and resolves to do whatever it takes to get him back. With the help of ancient Chinese war strategy book, The Art of War by Sun Tzu, Lainey and her friends/comrades create strategy to get their exes back. Who says that love is not war?

I am in the mood for something short and sweet, and The Art of Lainey comes in handy! It's fun and cute. The plotline might be predictable, but we'll still want to know the road to happy ending! Lainey may come off as very typical of teenager at first – 'oh nooo my life ends after he breaks up with me' case – but she has some great qualities that make me admire her. She's very loyal to the people she loves, which is simply awesome. ♥

Lainey goes on a series of fake-dates with her childhood friend/colleague in work/comrade in getting back the exes thing, Micah, and their fake dates are just entertaining! Nothing beats chemistry between the two people who know each other from a long time. They banter back-and-forth, but you can feel that they actually suit each other. Micah has bad boy look with Mohawk and tattoos, but he's actually a normal guy who is kind and thinks of his family above else.

If you're looking for cute summer read, The Art of Lainey can be your perfect choice. I love the references to The Art of War. I may have taken some notes from it. *wink wink* This book reminds me of Disney movies sometimes, specifically She's the Man – Lainey being a soccer goddess and having a bad boy hero with kind heart around – and I'd love to watch the movie version of this book. Give The Art of Lainey a go, and get ready to have your heart fluttered!

I stare at my tan fingers curled inside Micah's pale ones as we head back into the stadium tunnels. I'm a little sweaty, and so is he, but it doesn't feel nearly as weird as I thought it would to hold hands with another guy. Jason used to squeeze too hard sometimes and practically crush my fingers, but Micah's grip is firm and relaxed. Kind of nice. It feels almost normal, really. Like, in another world, the two of us could actually be on a date.
4 cups of tea!
Cute and fun! Recommended for fluffy reading.